The Call of Cthulhu
WRITTEN BY:
H.P. Lovecraft
NARRATED BY:
Michael Anthony Scott
In the modern world, humanity places itself at the top of the pyramid of creation, and civilization as its crowing jewel of supremacy. H.P. Lovecraft begs to differ. In The Call of Cthulhu he creates worlds that go beyond human existence, rendering humanity weak compared to the powers that lurk outside of world in time, and inside of our world in space.
Lovecraft's philosophy of "cosmic indifferentism" demonstrates that human beings do not understand they are subject to powerful beings and other cosmic forces that are not malevolent but totally indifferent toward humanity.
The Call of Cthulhu has made it on the mainstage of modern folklore and demonstrates why H.P. Lovecraft is the father of horror fiction.
________________
ThoughtAudio PDF Transcript: TA0125_CallofCthulhu_HPLovecraft.pdf
_______________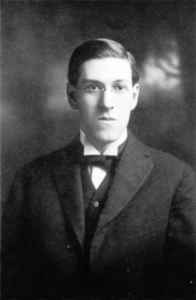 H.P. Lovecraft
Howard Phillips Lovecraft (August 20, 1890 – March 15, 1937) was an American writer of weird, science, fantasy, and horror fiction. He is best known for his creation of the Cthulhu Mythos.
He began to write essays for the United Amateur Press Association, and in 1913 wrote a critical letter to a pulp magazine that ultimately led to his involvement in pulp fiction. He became active in the speculative fiction community and was published in several pulp magazines, and later became the center of a wider group of authors known as the Lovecraft Circle. He would remain active as a writer for 11 years until his death at the age of 46.