________________________________________
Alice in Wonderland
WRITTEN BY:
Lewis Carroll
NARRATED BY:
Michael Scott
In the opening scene of this story Alice is a young girl living in the country and becomes bored by her sister sitting out in the open field quietly reading. When a white rabbit passes by Alice decides to follow it and when the rabbit pops down a large rabbit hole, well Alice follows as well. Once at the bottom she explores a new and strange world where nothing is as it seems and everything continues to change. She meets bizarre and crazy characters who speak in rhymes, riddles and just plain nonsense. Download this fantastical book and follow along the adventures of Alice in Wonderland.
_____________
ThoughtAudio PDF Transcript: TA0086_AliceinWonderland_LewisCarroll.pdf
__________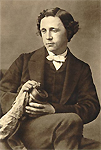 Lewis Carroll
Lewis Carroll, whose real name was Charles Lutwidge Dodgson, was an English author, mathematician, logician, Anglican deacon and a photographer. Alice in Wonderland is his most famous work although he wrote a sequel, as well as several poems, all examples of the genre of literary nonsense.