________________________________________
The Nightingale and the Rose
WRITTEN BY:
Oscar Wilde
NARRATED BY:
Michael Scott
This story is from the book The Happy Prince and Other Stories by Oscar Wilde. In this series of sad short stories, Oscar Wilde looks for a way to save one's soul in front of the misery of the world. The characters manage to obtain their salvation from their upper-class blindness, by opening their eyes to misery and suffering and by doing what they can to repair these pains and evils.
In this particular story, Oscar Wilde explores themes of love, sacrifice, and the price of beauty. Wilde uses the symbolism of the nightingale and the rose to explore the idea of true love and the sacrifices that one must make to achieve it. Through the story, Wilde highlights the lengths people will go to for love, emphasizing the idea that true love often comes at a great cost. Furthermore, the story touches on the idea of sacrifice, as both the nightingale and the rose make great sacrifices in the name of love and beauty.
_______________
ThoughtAudio PDF Transcript: TA0036_TheNightingaleandtheRose_OscarWilde.pdf
_______________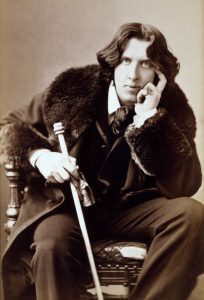 Oscar Wilde
Oscar Fingal O'Flahertie Wills Wilde was an Anglo-Irish playwright, novelist, poet, short story writer and Freemason. Wilde was one of the most successful playwrights of late Victorian London, and one of the greatest celebrities of his day, known for his barbed and clever wit.
Wilde wrote prose, his most famous collection of fairy tales being The Happy Prince and Other Tales. His only novel was The Picture of Dorian Gray. But his fame as a dramatist began with a string of successful plays and culminated with his masterpiece The Importance of Being Earnest. His final writing was the famous poem The Ballad of Reading Gaol.