The Happy Prince
WRITTEN BY:
Oscar Wilde
NARRATED BY:
Michael Scott
This story is from the book the Happy Prince and other Stories. In these tales, most of them being sad and even very sad, Oscar Wilde looks for a way to save one's soul in front of the misery of the world. In these tales the character will manage to obtain their salvation from their upper class blindness, by opening their eyes to misery and suffering and by doing what they can to repair these pains and evils.
_______________
ThoughtAudio PDF Transcript: TA0035_HappyPrince_OscarWilde
_______________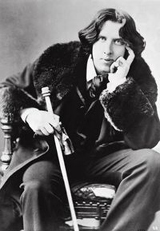 Oscar Wilde
Oscar Fingal O'Flahertie Wills Wilde was an Anglo-Irish playwright, novelist, poet, short story writer and Freemason. Wilde was one of the most successful playwrights of late Victorian London, and one of the greatest celebrities of his day, known for his barbed and clever wit.
Wilde wrote prose, his most famous collection of fairy tales being The Happy Prince and Other Tales. His only novel was The Picture of Dorian Gray. But his fame as a dramatist began with a string of successful plays and culminating with his masterpiece The Importance of Being Earnest. His final writing was the famous poem The Ballad of Reading Gaol.
While at college, Wilde became particularly well known for his role in the aesthetic and decadent movements. He began wearing his hair long and openly scorning so-called "manly" sports, and began decorating his rooms with peacock feathers, lilies, sunflowers, blue china and other objets d'art. He suffered a dramatic downfall and was imprisoned after being convicted in a famous trial for gross indecency, a term at the time that referred to homosexual acts. Wilde died in November of 1900.